DGRAD Delivers ON-SCREEN & WIFI Based Advertising To Diverse Audiences, Thereby creating Real Value for Our Advertising Partners. Our Bus screens offer great visibility and engagement and advertising with us produces high impressions at a low CPM for our advertisers.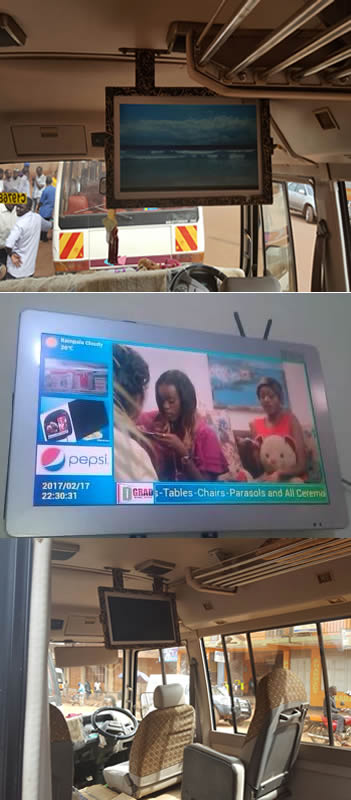 How we do it?
On board Screen Advertising.
DGRAD employs the latest top of the range On-board screen technology that ensures that we monitor all our screens from a central point, and disseminate content according to the advertiser specifications. We can ably do location-based advertising, scheduled according to a client's requirements, all the while providing required reports on things like advert run time, schedules and clustering.
DGRAD has built a network and mastered the art of tailoring and directing information, by leveraging the use of technology to deliver content directly to intended the consumers of all ages and sex in real time, any time of the day, through extension of our network to the daily commuter and travelling population.
We provide "Captive Infotainment" using our own infrastructure (Display Screens & Network) and provide access to our adverting space to both individual and corporate organisations. .
We Provide value for money.
Guaranteed Audiences.
Full time customer care.
Insight into your Campaign.
Why we are Better
When compared with other platforms on the market, DGRAD offers the best and cheapest alternative to radio, TV and printed newspapers. From current statistics, only about 8-10% of homesteads in Uganda have television sets, and these are watched mostly between 7 and 8pm, with the number of people watching them having fallen to under 15% over a duration of 3 months on average. With the introduction of TV Subscription as a requirement for one to watch, TV viewership has fallen further. This subscription may range from 8,000/= to 350,000/= Uganda shillings per month. Also the cost of advertising on television channels in Uganda averages about 10 dollars per second. This can become a very high price to pay for advertisers who have informative adverts that require repetitive play for mass communication purposes. For the print media, which includes the newspapers, the low Ugandan levels of literacy and purchasing power limit the readership and thus the reach of this form of media .
Our Vision: To provide a quality service at affordable premium rates that exceeds the expectations of our esteemed clients
Our Mission
:
To create, build and maintain long term relationships with our esteemed customers and clients, providing exceptional and above board customer services by pursuing business expansion through innovation and integrating technologies